Online Account Opening: Make the right first impression with an optimized digital experience
Demand for better digital banking experiences continues to accelerate – particularly for fast and easy online account opening (OAO). 73% of financial institutions (FIs) rank digital account opening as their most requested digital feature(1). Bankjoy's innovative digital platform enables community banks and credit unions to rapidly roll out a compelling and competitive OAO experience.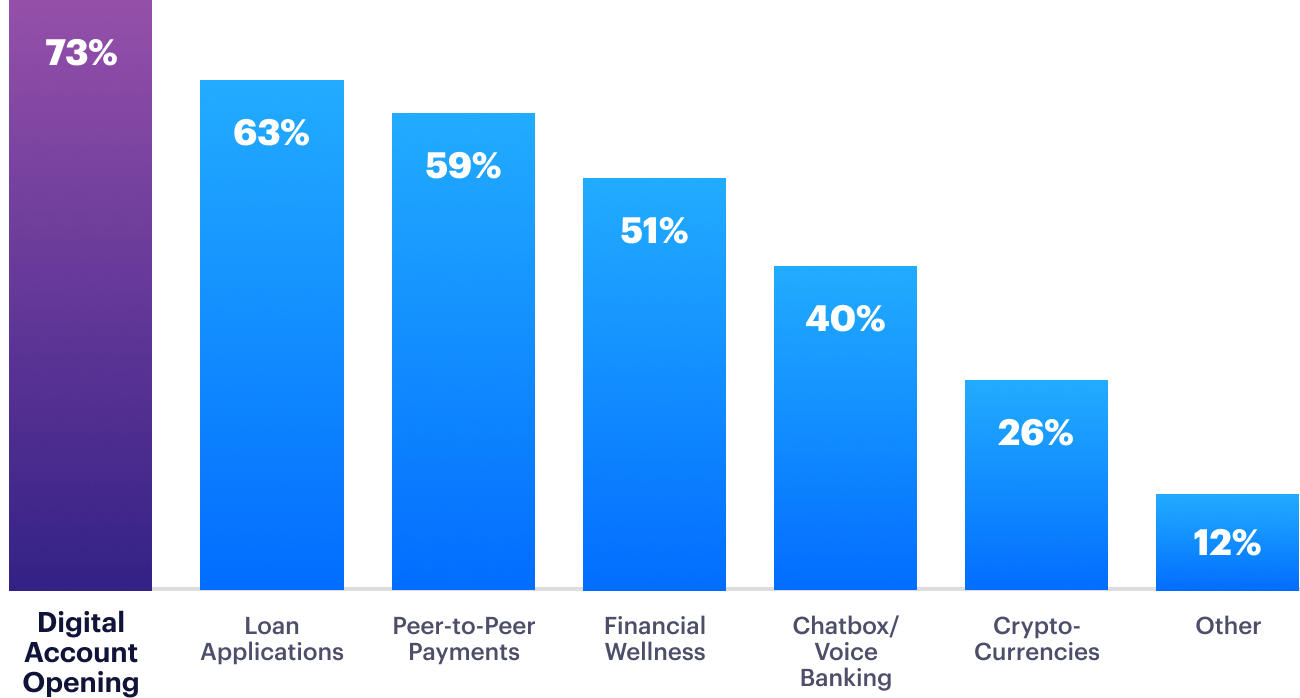 Younger generations, in particular, are choosing their FI based, in part, on the ease of account opening and the capabilities of digital banking apps. Bankjoy enables FIs to offer seamless online account opening that creates a powerful first impression. As the initial touchpoint in a new relationship, providing the right OAO experience helps build loyalty from day one.
How is Bankjoy OAO different?
For decades, Apple® has set the standard for clean, modern design and ultra-simple user interfaces. Many banks, however, are still struggling to simplify digital account opening.
Bankjoy has met the challenge with a sleek interface that makes it easy for users to open an account online in as little as 90 seconds:
Increase conversion. The simple and intuitive mobile-first interface is designed with clear, contextual options that help people choose what best fits their situation. And unlike the majority of providers, Bankjoy saves time and reduces errors by allowing applicants to upload their automobile license and the system auto-fills name and address information.
Minimize risk. Bankjoy uses the latest in facial biometrics and image capture technology to speed identity verification and help avoid application fraud. The platform uses Socure technology, which has become "the gold standard for digital identity verification and identity fraud prevention."2
Speed approvals. The robust decisioning engine enables near-instant decisioning by leveraging Know Your Customer (KYC), ID verification, synthetic fraud detection, as well as an applicant's email, phone, address, IP address, and device risk scores.
Fast implementation. No-code, customizable branding and workflows enable FIs to rapidly configure a best-in-class OAO solution right away.
Seamless enrollment. If FIs are using Bankjoy's digital banking platform, after opening an account online, the new customer or member is automatically enrolled in digital banking and paperless statements.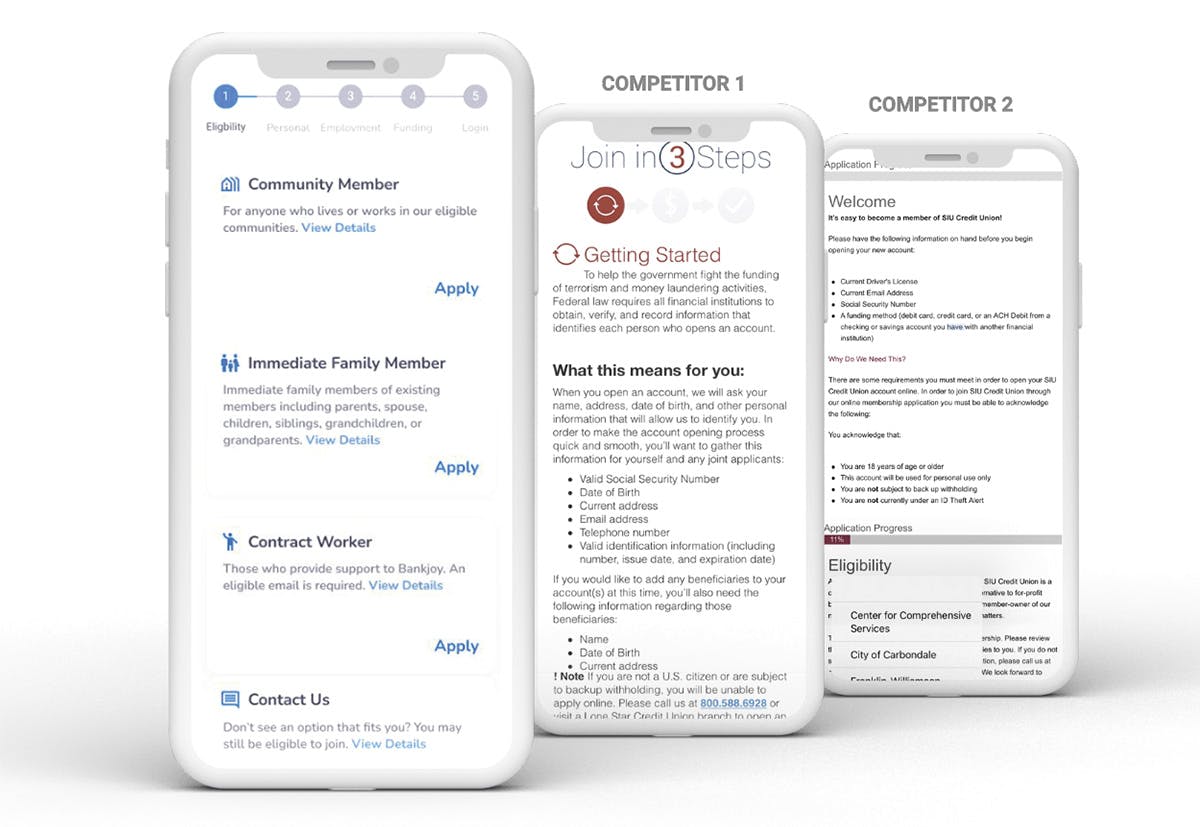 "It reminded me of an Apple product, like an iPhone. It (Bankjoy's platform) is incredibly easy to figure out where everything was. The member experience was exactly what we were looking for."
—Steven Page, Chief Marketing, Digital and IT Officer, SafeAmerica CU
Accelerate your path to a winning OAO experience
When legacy core systems make it difficult to innovate online account opening, how can banks and credit unions speed progress to stay competitive?
Many FIs are partnering with fintechs as a fast-track to digital banking innovation. Collaborating with Bankjoy, you can count on fast implementation for an OAO solution customized to the needs and brand experience of your organization.
In less than 2 weeks Bankjoy can implement and deploy your OAO
Ready to explore?  Request a demo.
Sources:
1   Four Essential Digital Trends for Banks in 2023 (and Beyond), The Financial Brand, Sept 2022