Speeding digital transformation with a fintech partnership – Best practices to prepare for success
Improving the digital experience is the top business challenge for banks and credit unions, even above loan growth and acquisition, according to a report from BAI. And progress cannot wait. Up to 90% of millennials and Gen-Z are "willing to turn to big tech and nonbanks for better banking tech and faster banking services."(1) And 40% of consumers say that digital capabilities are the most important factor in choosing a banking partner.(2)
"It is more important than ever to improve the mobile banking experience as soon as possible – because the customer of the future isn't waiting."(3)
Delivering an easy and engaging digital banking experience is now business-critical to remain relevant and competitive. To overcome the roadblocks of legacy systems, many credit unions are taking the fast-track for digital transformation by partnering with fintech innovators.
But taking on a fintech partner is about more than choosing a new technology. Financial institutions should take a close look at how their organization needs to prepare – to get the most value from both the solution and the relationship.
5 R's of Fintech Readiness – Strategic considerations for fintech partnering
When considering a fintech partnership, strategic planning with internal stakeholders helps clarify specific needs and actions. An effective tool to guide the process is the 5 R's of Fintech Readiness.(4)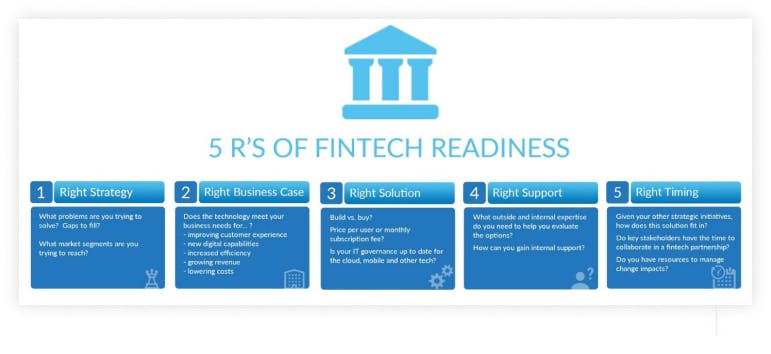 1: Right Strategy
First, clearly define what problems you are trying to solve, so you can map them to KPIs.
For example, go deeper than 'improve member satisfaction' or 'increase revenue.' The more specific, the better. Which pain points do you aim to fix? What functional gaps will you fill? And what's the potential impact? Those are things you can measure to track progress and prove the ROI of a new solution.
2: Right Business Case
The business case makes the argument for WHY to pursue a given fintech solution and partnership -- in terms of fit, process, and people. For example, explore how the solution fits with your problem-set and budget, how it integrates with your processes, and what specialized expertise it brings to speed progress and drive success.
As an example, when SafeAmerica collaborated with Bankjoy, they cited that:
"One of their biggest takeaways from the experience is that credit unions should pick a digital banking partner, not just a vendor: someone who is willing to work with them to help their members succeed. Your digital banking vendor is going to have to be as flexible as you are to make this happen. We're incredibly happy to have Bankjoy as a partner and hope to continue working with them in the future."
The right fintech partner should also help you avoid risk. What do they know about your compliance requirements, and state and federal regulations? How will they support risk assessments, IT governance, training, audits?
3: Right Solution
The next step looks at practical considerations that may influence whether a given fintech solution partner is right for your organization:
Ease of implementation
Speed to market is critical to increase ROI. How easily can the solution integrate with your existing infrastructure? Can they implement within weeks, instead of a year?
Partnering with Bankjoy, Directions Credit Union had a new digital banking test site available one week after purchase, and a production environment ready only one month later.
Flexible options
Does the fintech offer a variety of ways to implement the solution? For example, a white-label mobile app that supports single-sign-on, APIs and SDKs for customization, and configurable dashboards with real-time analytics.
Cost factors
What is the expected total cost of ownership?
One-time and annual costs; price per user vs. monthly subscription, etc.
Proprietary software vs. extensible open source
Future upgrades – will you need to pay? If so, how much?
Another cost impact is how the solution can potentially reduce operating costs. With their new easy-to-use mobile banking app that's fast and reliable, Directions Credit Union now has lower support costs. They receive far fewer support calls and no more complaints about poor app speed, outages, or missing functionality.
4: Right Support
The fourth "R" is determining whether you have the right support to move forward:
Resources – Do you have the necessary leadership buy-in, in-house staff (e.g., IT, CX, Legal and Compliance), and outside experts? What's missing and how will you address it?
Ownership – How you will manage the partnership? It helps to have centrally-led ownership within your organization. Clearly define roles and responsibilities, necessary reporting, and which stakeholders should stay updated.
Communications – Effective communication across all the right stakeholders is vital to ensuring the relationship is productive and progress stays on track. Set clear expectations about the type and frequency of communications with a fintech partner, so both sides get the information they need, when they need it.
Digital adoption – How will the fintech firm help you drive adoption for the new solution, and monitor and measure progress? How will they support their technology over time? How will they collaborate to help your business and offerings evolve?
5: Right Timing
Timing is everything: 
Given other initiatives and priorities, how does the new solution fit in?
Do key stakeholders have the time to manage a fintech relationship?
What are the impacts of the changes and how will you manage them?
What resources do you have and need to manage the change?  (e.g., for member and internal communications, employee training, process updates, etc.)
Speeding digital transformation with Bankjoy
Optimizing member experience has never been more important, or more challenging for credit unions. Evolving at the speed of innovation is what it takes to keep pace with changing demands and stay competitive. That's where Bankjoy can be an exceptional fintech partner. 
Our modern digital platform has helped dozens of credit unions quickly and cost-efficiently deliver state-of-the-art online and mobile banking. 
Ready to explore how we can partner to accelerate your success? Contact us to request a demo.
Sources:
1,3  Consumers Demanding Enhanced Mobile Banking Apps, The Financial Brand, Dec 2021
2     How millennials and Gen Z bank: 97 stats you need to know, Sensibill, July 2021
4     5 R's of Fintech Readiness, © 2022 Beyond the Arc, Inc. All rights reserved.
5     A vetting guide for banks mulling fintech partnerships, American Banker, Feb 2020